We cruise the Rivers of the Amazon, Brazil on board the greatest floating hotel of all South-America - Rio Negro Queen - delivering world's best peacock bass fishing experience, Michelin-Star gastronomy, and designed Eco tour activities on one of the last unspoiled places on earth. Our team of experts will assist you from the moment you book your trip with us throughout airfare, visa… up until your return home.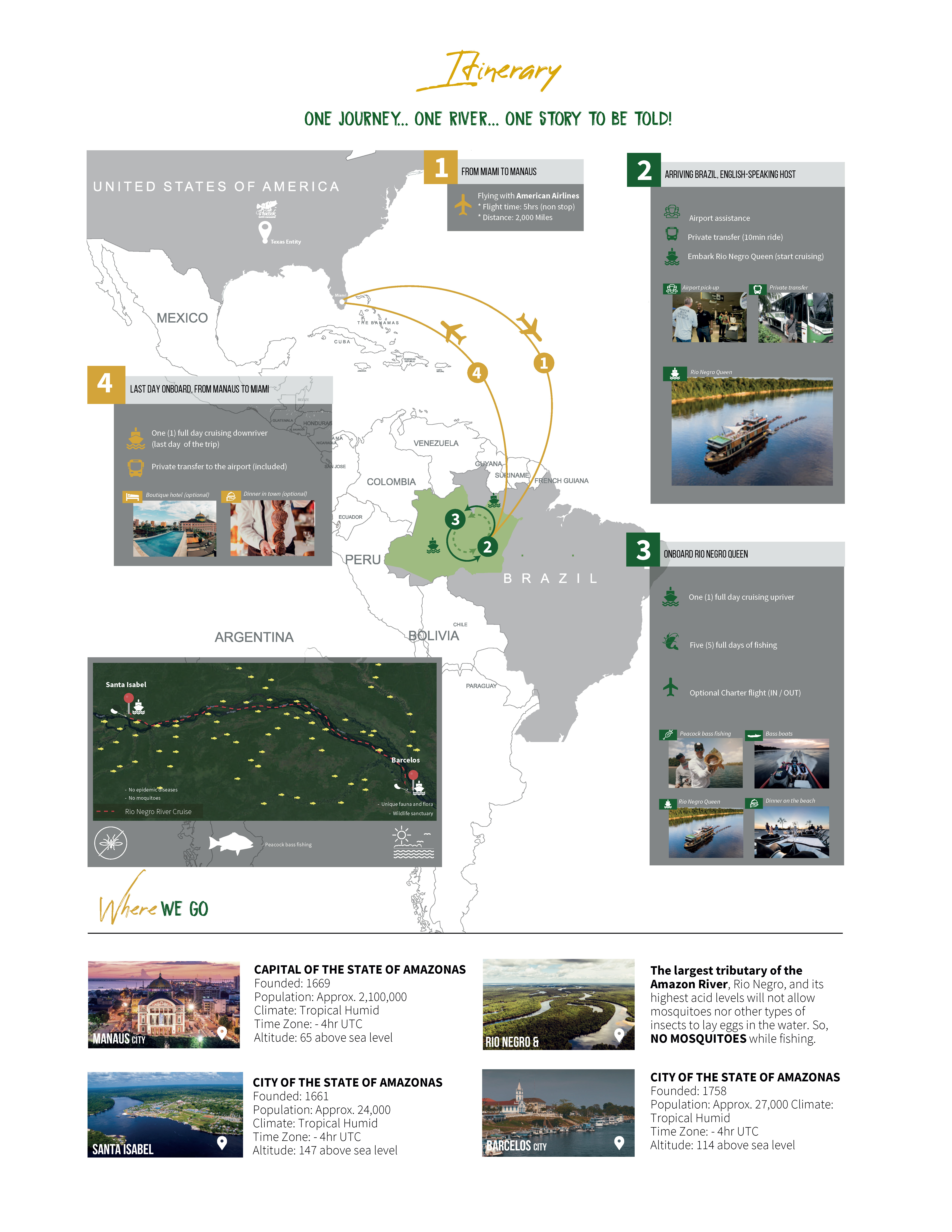 Itinerary Description
1st DAY: Arrive in Manaus city in the early afternoon or evening. Once you have cleared Brazilian Customs or have your jet secured checked in, you will be met by our English-speaking host/hostess. Then you will board our private charter bus and be transferred to the nicest hotel in town. Our team will provide you with fantastic amenities all the way;
2nd DAY: Your wake-up call will be scheduled by our team (no worries), we will be at the hotel to take you right after breakfast and check out to travel by private bus to the Manaus executive airport. You will then board our private charter aircraft to meet the yacht. There is no restriction on the amount of luggage you can bring on our charter plane, but you don't need to overpack. Upon arrival in either Barcelos or Santa Isabel, you will then be transferred to the yacht where you can relax, unpack, enjoy a drink and explore your floating boutique hotel while we get underway. In the afternoon right after lunch you will start your adventure outboard – you can elect to fish once we get further up river or simply relax for the remainder of the day;
3rd DAY: You will start the 3rd day of the trip and the 2nd day on board yacht, using the entire day at your discretion. You will be fishing along with other guests and your guide. At the end of the day, when you return, we will always have a cocktail/appetizers party previous to dinner, waiting for you. Enjoy your first day in the world's best peacock bass fishing operation.
FROM 4th DAY to either 5th DAY (signature package) or 7th DAY (premium package): you will be cruising for different peacock bass fishing spots and Eco tour activities along the day;
6th DAY (signature package) or 8th DAY (premium package): you will be fishing and Eco-touring the Rio Negro on your way back to the arrival city (either Barcelos or Santa Isabel). We will stay overnight. You are more than welcome to go and explore the town if you would like, or simply enjoy your last night aboard;
7th DAY(signature package) or 9th DAY (premium package): Have your farewell breakfast, then depart to the airport where you will be flown by our private charter back to Manaus.
If desired, a hotel room has been booked for you, and we will transfer guests to the Manaus airport for their flight home (included in your package).
Eleven (11) Exclusive Reasons to Join Us
1. An Exclusive Concept In Brazil's Amazon
By combining unparalleled luxury with the adventure of one of the last truly unspoiled places on Earth, Capt Peacock has developed a cruising concept that is often imitated but never duplicated. We are the only outfitter in all of Brazil's Amazon to offer five-star luxury accommodations, total river mobility, and authentic outdoor activities upon one of the most scenic rivers in the world. Join us for five or seven days for the trip of a lifetime.
---
2. The Best Fishing Guides & Gear
Capt Peacock has guided more anglers (and non-anglers alike!) to more world record Peacock Bass than any other outfitter in the Amazon. Our English-speaking guides, each with an average of 15 years experience, combined with TFO fishing rods and Shimano Reels designed specifically for Amazônia, will put you onto the largest Peacock Bass in all the world. And best of all, our guides' experience and all equipment is included with your package.
---
3. Spacious & Special Accommodations
Each of our cabins measure 250 square-feet, feature two full beds bathed in 400 thread count cotton linens, each room features a spacious walk-in private bathroom with hot/cold water, an independent air-conditioning system, side-by-side beds with custom linens, and floor to ceiling thermal privacy glass from which to view the passing rainforest. ADA compliant cabins are also available.
---
4. 165 - Feet Yacht - Your Floating Hotel
Capt Peacock provides the most luxurious accommodations of any Peacock Bass fishing operation in Brazil's Amazon. Our state-of-the-art 165-feet long by 34-feet wide yacht, the Rio Negro Queen, features a shallow draft steel hull that can cruise at less than 5 feet of water and carry more than 2 1/2 weeks of fuel and supplies. Your adventure in Amazônia begins here, in style and comfort.
---
5. World's #1 Bass Boats
Fish and cruise the Amazon atop stable decks, in comfortable seats, and with the smoothest and fastest ride in all of Brazil with our fleet of Bass Tracker boats. Bass Tracker boats are American made and America's favorite and Capt Peacock is the only outfitter in all of Amazônia that has them.
---
6. Brazil's Amazon throughout Capt Peacock 
Capt Peacock offers more than just a fishing trip. We deliver the Trip of a Lifetime, one under the backdrop of one of the most beautiful places on Earth. Experience the best Peacock Bass fishing in the world, indigenous people and cultures, shore lunches in the rainforest, dinner on an unexplored virgin beach, nighttime bowfishing, and a host of other one-of-a-kind locations and activities.
---
7. We are here for you, rest assured about that 
With Capt Peacock, special services and amenities come standard. All Packages include Airport, hotel, and city transfers with English-speaking guides on our private bus, two nights at a five-star hotel in Manaus, Brazil, private charter flights within Brazil on our 44 seat aircraft, rods, reels, and lines furnished for conventional and fly fishing anglers, daily maid service, and all meals, snacks, and drinks. Onboard masseuse service, private charters, and fishing remote areas via floatplane available for an additional charge.
---
8. Onboard Executive Chef
Great food and drink are our Chef 's passion. International and local cuisine paired with great South American red and white wines, shore lunch, an outdoor Brazilian barbecue, special cocktails prior to and after dinner, an à La Carte executive dinner menu, international breakfast, and more are just part of what we offer, and all are included with your package.
---
9. Let Our Crew Exceed Your Expectations 
Each of our 28 English-speaking crew members each have an average of 15 years experience and are constantly striving to do better.  Whether it's scouting new locations and testing new gear in the off-season, taking continuing education and Advanced English courses, or exploring new itineraries and menu options, our crew is always working to improve in order to exceed your expectations to provide you with a trip of a lifetime. 
---
10. Customized Private Trip Packages
Let Capt Peacock design something special just for your party! We can arrange special-request menu and drinks, suggest custom activities and destinations, and design family or corporate exclusive trips. Want the entire 165-foot luxury yacht all to yourself? We can do that too. Call or e-mail us today to plan your one-of-a-kind adventure.
---
11. Social & Environment Responsibilities
Capt Peacock is proud to partner with MARIA (Medical Assistance in the RIvers of the Amazon) to provide free dental and medical care to the indigenous people along the Rio Negro River. It's our way of giving back to those we share the river with on a daily basis. In addition, we also guard the river's future by practicing catch and release, promoting environmental awareness, eco-treating our water, and recycling our boat's refuse.