BEST FISHING + LUXURY CRUISE = CAPT PEACOCK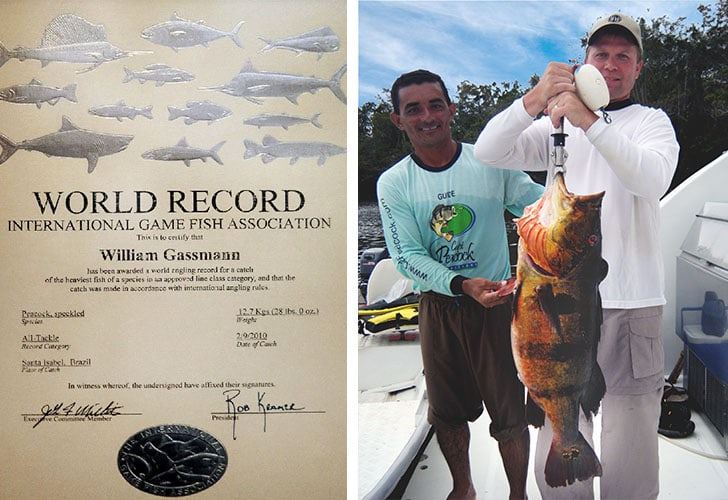 Yes! We did it!
The world's biggest peacock bass (28 lbs) has been caught with Capt Peacock on Feb. 2010 by Bill Gassmann from Iowa and registered by IGFA (International Game Fishing Association). He landed this monster (see pic. on the left) on his first Peacock Bass trip ever. The 27 lbs fish stood as the world record for 17 years, and many people thought it would never be broken.
5-Star Floating Hotel
Rio Negro Queen was designed to cruise all Brazil's Amazon in style and comfort.
World's # 1 Bass Boats
We exclusively provide you with Tracker boats and English-speaking guides.
Michelin Starred Chef
Chef Roland Villard combines local and international cuisine in unique ways.
Beyond Just Fishing
We give you the best of the Amazon Rainforest, Rivers, Fauna, and Flora.
What we do
We cruise the Rivers of the Amazon, Brazil on board the greatest floating hotel of all South-America - Rio Negro Queen - delivering world's best peacock bass fishing experience, Michelin-Star gastronomy, and designed Eco tour activities on one of the last unspoiled places on earth. Our team of experts will assist you from the moment you book your trip with us throughout airfare, visa… up until your return home.
Rio Negro Queen
At 165 feet long by 34 feet wide and less than 5 feet shallow draft, this state of the art floating hotel combines ease of river mobility with unparalleled luxury


guests testimonials
To all of our guests, not simply customers, we wanted to thank Y'ALL for your business and friendship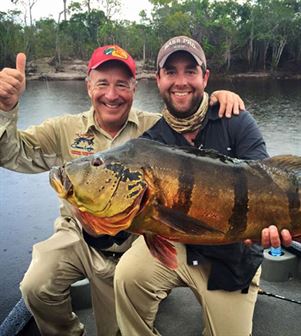 Dear Leonardo "Capt Peacock" Just want to say thank you again, for another great time in life!.
Johnny Morris Founder and CEO of Bass Pro Shops and
Tracker Marine (Jan. 2015)
"I've been fishing with Leonardo Leao and the Captain Peacock operation for many years and have always considered them to be the ultimate Peacock Bass outfitter in the Amazon.
Larry Larsen Author of four books on the Peacock Bass Founder of Peacock Bass Association Hall of Fame as Legendary Angler (Feb. 2015)
"This was the most Incredible trip ever! The crew was fantastic and every need and desire was fulfilled! Five Stars for sure, they went above and beyond for all expectations, And the fishing was a Dream come true!"
Kyla Schuehle Burell (Dec. 2016)
Lifetime Memories
Stories & laughings, excitements & achievements, dreams & opportunities, tastes & surprises… proudly delivered by our team!
0
Mosquitoes