Onboard Activities (All-inclusive)
Bowfishing
Once a week, from 8 pm to midnight, guests will experience this new and exciting method of fishing that utilizes specialized archery equipment to shoot and retrieve fish. Fish are shot with a barbed arrow that is attached to a special line to a reel mounted on the bow. "Fish" for giant catfish, massive freshwater stingrays (catch and release), and a host of other nocturnal species all under the backdrop of the Amazon Rainforest at night!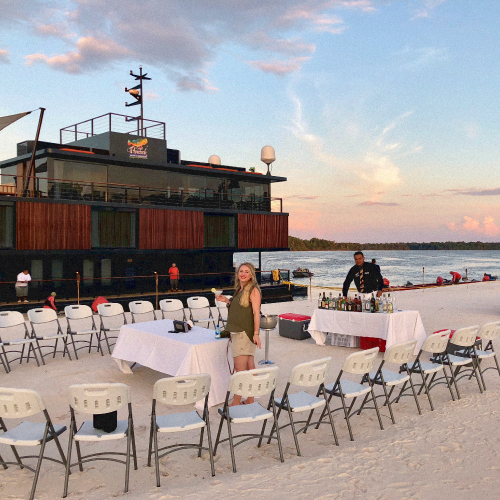 Dinner on the Beach
You will finish your week of adventure onboard Capt Peacock's yacht with a special and authentic Brazilian barbecue held on a virgin, white sand beach on the shores of the Rio Negro River, in the heart of Brazil's Amazon. It's a night you won't forget.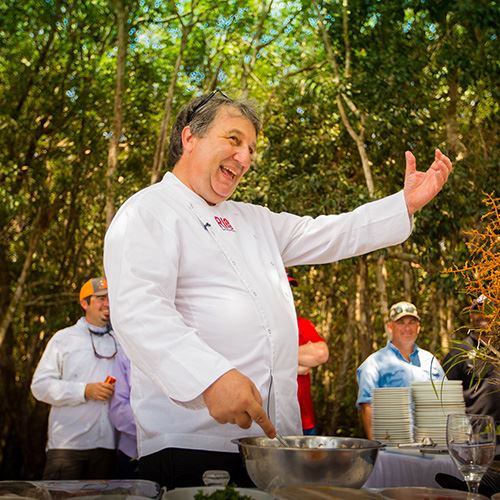 Shore Lunch
Once a week our guides and Executive Chef prepare a meal utilizing local cooking methods, spices, and cures just off the river and under the shade of Amazônia. It's an authentic experience and delicious treat unlike anything else you've experienced.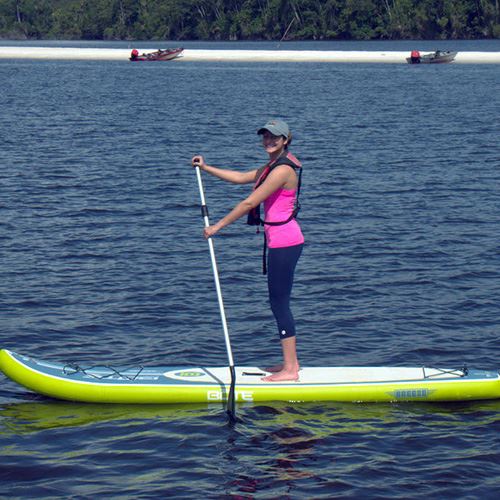 Standup Paddleboarding
Another exclusive activity of Capt Peacock's operations, standup paddleboarding offers a fun, relaxing way to play on the water. Paddleboarding delivers a full-body workout, is a favorite cross-training activity, and provides a view of Brazil's Amazon few on earth can say they've seen.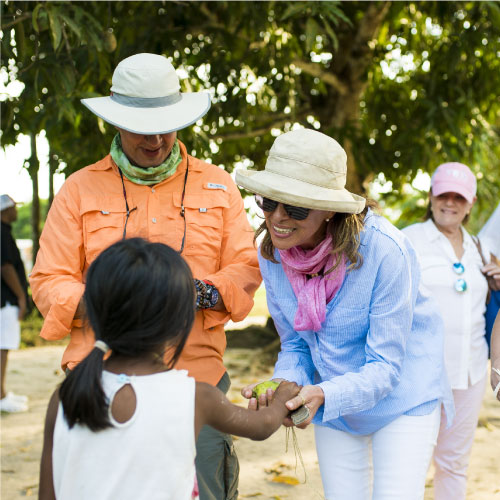 Local Village Visiting
Capt Peacock offers many opportunities for cultural interaction with the people that call the shores and forests of the Rio Negro home. It is part of your package to visit with many villages or private excursions. But these visits aren't just for guests to Brazil's Amazon. The villagers find interaction with the "outside world" just as rewarding as do those that visit them and Capt Peacock finds great satisfaction in bringing these groups together.
Manaus City Activities (Optionals)
And the adventure continues back in Manaus with our Luxury Tailor Made Activities. We can arrange shopping and nightlife, helicopter tours, the opportunity to swim with pink dolphins, visit indigenous people, exquisite dining, a look back at the city's 300-year history, and much, much more. Contact us for more details about these additional activities.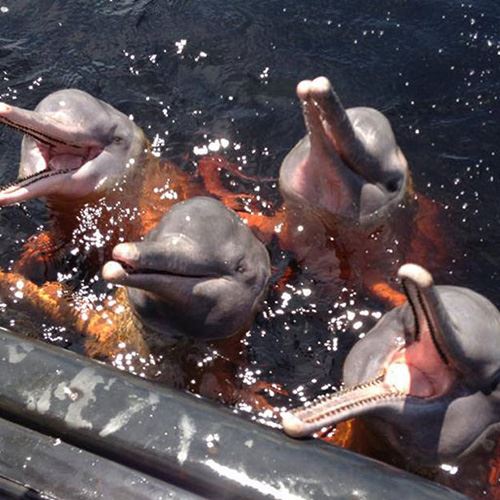 Dolphins and Villagers Tour
Start your afternoon with a trip to Manaus' world famous Buffalo Brazilian Steakhouse followed by a 45-minute boat ride on the scenic Rio Negro River to the Tupé Federal Reserve where you'll watch indigenous persons perform traditional dances and act out their unique history. From there it's back on the boat for an hour and a half ride to see, touch, and if you wish, swim with wild pink dolphins. 6 Hours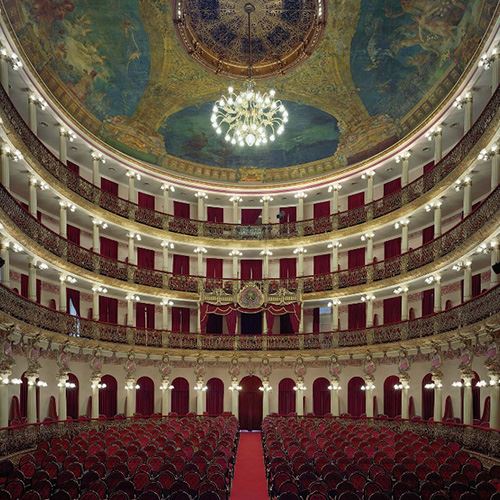 Manaus Sightseeing Tour
Includes lunch at the best Churrascaria (BBQ restaurant on steroids!) in Manaus, Buffalo, stops at the historic Opera House, giant fish and craft market, and at one of the biggest shopping malls in Manaus. Eating, shopping, and sightseeing! What more could you ask for?
Private Helicopter Tour
Witness The Meeting of the Waters, the City of Manaus, Anavilhanas Archipelago, and the Amazon Rainforest during an incredible private helicopter tour. And be sure to schedule your flight for before or after your fabulous lunch at the Churrascaria Bufalo restaurant. ½ hour and 1-hour tours available.
---
NOTE: Lunch at the finest barbecue steak house, English guide, transfers, and entrance are included in all tours provided. Gratuities, drinks, desserts and personal expenditures are considered extras.
---