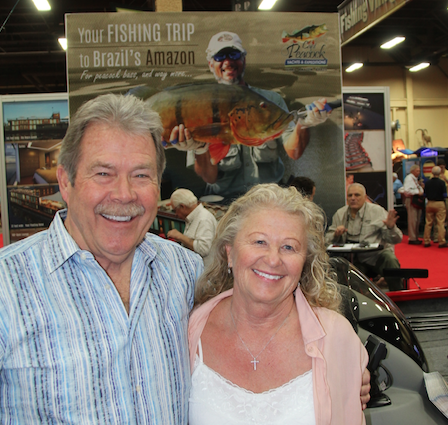 Capt. Peacock Yachts & Expeditions' donation of a 9-day trip of a Peacock Bass fishing in Brazil's Amazon for two people aboard their luxury yacht Rio Negro Queen sold for $13,000 at Safari Club International's annual convention's Live Auction in Las Vegas on Friday February 5, 2016. The trip was purchased by Patrick Cannon and Susan Johnson and the money will be utilized by SCI for Outdoor Conservation. Capt. Peacock Yachts & Expeditions' owner Leonardo Leao was more than ecstatic at the selling price.
"We – and I say 'we' because Capt. Peacock is a team of absolutely fantastic people – are thrilled that our donated trip sold for what it did," Leao said following the event. "I think the fact that the trip sold for more than a thousand dollars over the value of the donation is a testament to the popularity of what we offer and we are more than pleased that the money will be used for Outdoor Conservation."
Capt. Peacock Yachts & Expeditions is no stranger to raising money for charity having to helped raise more than $100,000 for Young Life Ministry across North Texas at the Humphrey & Associates Broken Clay event in September, helping to raise $4,285,759 for the American Cancer Society at the 2015 Cattle Baron's Ball in October, and $44,000 for Outdoor Conservation by donating a Peacock Bass Fishing Adventure for eight to the Dallas Safari Club's annual convention in early January.
Leao reiterated, "Capt. Peacock Yachts & Expeditions is always pleased to give back. It is part of who we are as a company, part of our mission statement, and it's the right thing to do."
Next up for Capt. Peacock Yachts & Expeditions is the Toronto Sportsmen's Show to be held at the International Centre March 16 – 20, 2016.