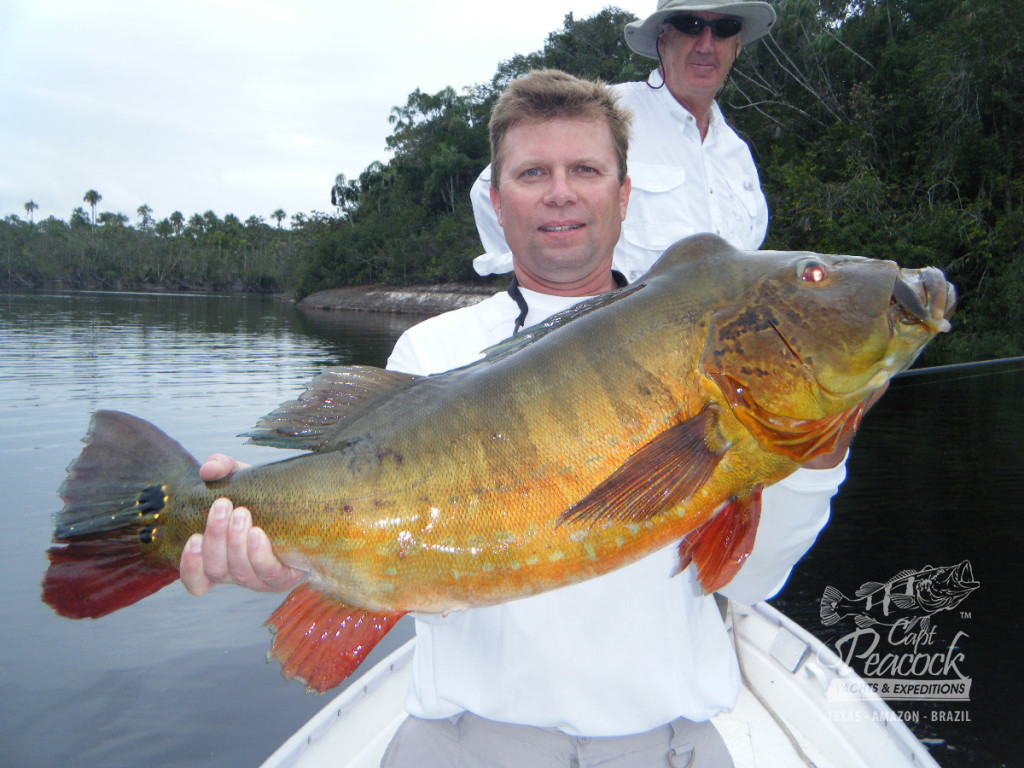 On June 1, 2010 the IGFA (International Game Fish Association) certified the 28 lb. speckled Peacock Bass caught by Bill Gassmann of Des Moines, Iowa on Feb. 9, 2010 while fishing with Captain Peacock Expeditions of Manaus, Brazil. The new world record peacock is 37" long with 25" of girth, beating the old world record by 4" in length, 2" in girth and a full pound in weight.
For many ardent Peacock Bass fishermen, the long standing 27 lb. All Tackle World Record Peacock Bass caught by Gerald (Doc) Lawson on December 4, 1994 was a record that would never be broken. During the 16 years since Doc caught his huge Speckled Peacock, the popularity of Brazil's Rio Negro fishery has sky rocketed with 25 and 26 lb. fish being caught each year and several 27 lb. fish being reported. This has led many people to believe that fishing pressure and genetics would make the record impossible to break. At 10:30 on the morning of the 6th day of his first fishing trip to Brazil's Amazon, Bill Gassmann proved these skeptics wrong. Casting his clown patterned Woodchopper top water lure into flooded timber just off a tributary to the Rio Negro, Gassmann joined the ranks of IGFA World Record title holders. Peacock Bass are known for their fierce top water strikes, very often unnerving anglers as they attack lures. Gassmann's 28 lb. monster had his own style, almost indiscernibly sucking the big Woodchopper under the water the moment it hit. When Bill set the hook on the big fish it made a strong run, nearly spooling the reel. After a 12 minute fight, Bill's guide Elvis netted the fish and upon attaching the IGFA certified Boga Grip to it immediately declared, "We go to boat!" Bill did not realize the significance of the 28 lbs. that the Boga Grip was registering , but Elvis with over 10 years of guiding experience in the Brazil's Amazon certainly did!
Peacock Yachts & Expeditions and one of the hosts for every trip aboard their 125' luxury mother ship, put the huge fish in the ships live well. IGFA regulations stipulate that the fish must be weighed on land with a registered scale to be considered for entry into their program. Gassmann began to appreciate the gravity of what he had done while watching the enthusiasm of Leonardo, Elvis and members of the Capt. Peacock's crew as they made the official weighing.
Captain Peacock began operations in 1994 with the express intent of providing top of the line fishing trips combined with excellent accommodations, service, guides and equipment in a mobile format. Mobility is the key to successful fishing for Peacock Bass, as water levels fluctuate greatly during the fishing season in Brazil's Peacock Bass fisheries which run from September through March each year. This necessitates having the ability to move (often many miles) to find ideal water conditions. "We are very happy with the opportunity to show the fishing world our exclusive concept combining mobility, safety and first class services in order to create unique moments like that for every angler from first-time Peacock Bass fishermen up to the most knowledgeable ones," said Leonardo Leao.
Bill was fishing on Captain Peacock when he caught this huge fish. You can visit the Captain Peacock Yachts & Expeditions website at www.captpeacock.com for your opportunity to fish with their "World Record Peacock Bass" fishing team…