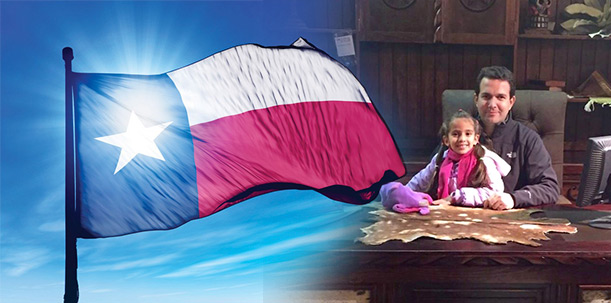 True, I wasn't born in Texas but as the saying goes,
"I got here as fast as I could!"
I first visited the Lone Star State almost two decades ago when I was a commercial airline pilot and was immediately taken by the beauty of the landscape, the friendliness and warmth of the people and their sense of pride in their history and culture.  I admired how Texans "mean what they say and say what they mean," how word is bond, and how deals are made with a handshake. It was for these reasons that I decided to not only someday move to Texas but to found Capt. Peacock Yachts & Expeditions as a Texas entity.
Almost a decade and half later my family and I moved to Texas and quickly became residents.  My youngest daughter started kindergarten in Texas and my middle daughter enrolled in the University of Texas. And after I obtained my U.S. residency, Governor Greg Abbott made me an "Honorary Texan."  It was a day I will never, ever, forget.
So, it is with Great Texas Pride that I, as a Texan say, wish you Happy Texas Independence Day to you and yours from me, my family, and the rest of the team here at Capt. Peacock.  May the spirit of the day and all things Texan be with you!
Ye-Ha,
Leonardo Leao